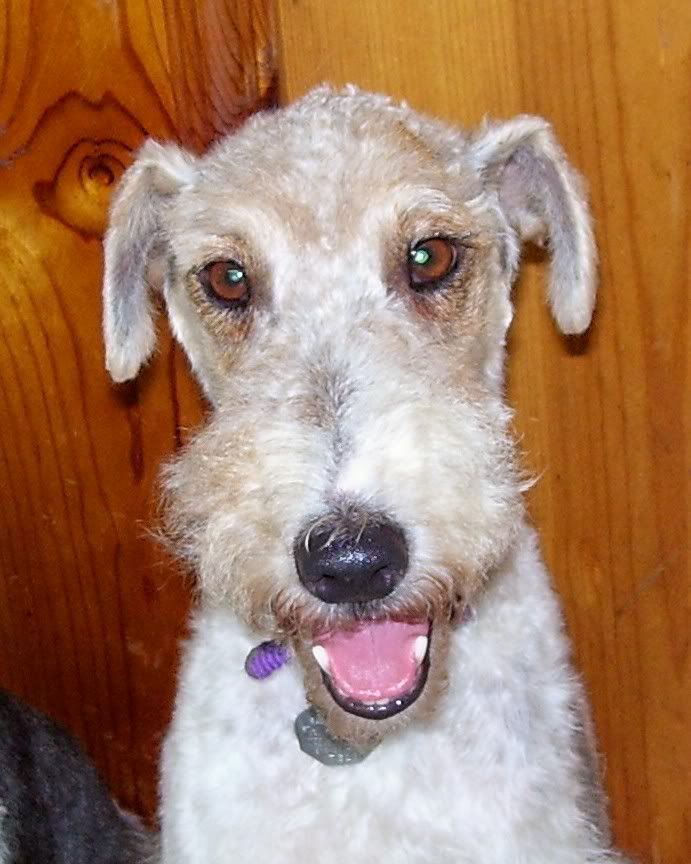 Yesterday started off nice enough. Instead of getting breakfast, we were asked, "Who wants to go for a ride?" Well, ask a silly question! Cap, Glynn and I jumped in the pickup for a trip to town. I rode shotgun.
We ended up at the vet's office. No big deal there, we like our vet and all the people at the animal hospital. They drew blood from all three of us, I guess to see if we had some. Then I was hefted up on the table and stood there wagging my tail, enjoying all the attention and hugs. There must have been a bee buzzing in the room, because the next thing I knew, I felt a little sting in my shoulder. That's the last thing I remember for awhile.
I don't know what happened next, but when I woke up I felt wobbly, my head was spinning, and I'm not at all certain I hadn't been abducted by aliens when I wasn't looking.
Cap and Glynn hadn't fared much better than me, so that bee must have been going around. Poor Cap woke up missing three teeth, which were getting pretty scarce in his m
outh. His breath also smells better than it did before. Glynn just looked sleepy and didn't say much.
Now Mom has a photo of a dog that looks an awful lot like me getting a professional dental cleaning. All I can say is I don't remember that happening, so it couldn't have been me. Handsome devil, though. I'd like to meet him someday.
We didn't feel like eating dinner last night, but this morning we inhaled our breakfast. Cap grumbled over his bowl like he always does, and Glynn and I played switcharoo with ours. We got extra hugs, too, and were told we were the best smelling pooches around.
I hope Doc gets rid of that pesky bee, though.
~Tell